Leading the Business Enterprise event where Margaret Mountford from 'The Apprentice Show' , The Former Attorney General Baroness Scotland QC attended, and many other business women and girls.
Event Held at Westminster Hall
networking events
Inner Strength raises awareness on real issues affecting women and girls today.
International Women's Day Event 2012 took place at Waterloo Action Centre where a host of inspiring speakers attended including Doreen Lawrence ng.co.ukraises awareness on real issues affecting women and girls today.
Girls prepare their speech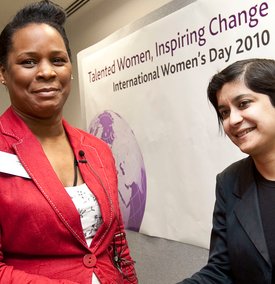 Maureen hosts women's day and invites Shami Chakrabarti CBE; Director of Liberty to attend. Shami was saluted for her integrity at the Summer Olympics 2012
Maureen speaking to thousands of women at Trafalgar Square at a million women rise" event in 2007. " Remember it could be your mother, your sister, your friend. Say no to domestic violence"
Pictured: Bridget Prentice MP attends "Hands Up Against Domestic Violence" event and launched Moj first domestic violence policy and the Forced Marriage Act. Maureen is the host emphaises the importance of men who support women's issues,
Men who supported the women's agenda include Sir Gus O' Donnell- Head of Civil Sevice in 2010. Maureen organises Joint Government Event working closely with the Cabinet Office.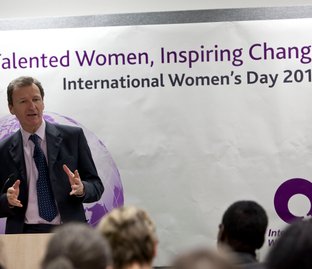 Paul Barrington Bailey speak on career development